6-5-5. RNAV MINIMA - DIVERGING/CROSSING COURSES
Consider lateral separation to exist when an RNAV aircraft is beyond the point where the lateral protected airspace of that aircraft has ceased to overlap the lateral protected airspace of another by at least: (See FIG 6-5-7 and FIG 6-5-8.)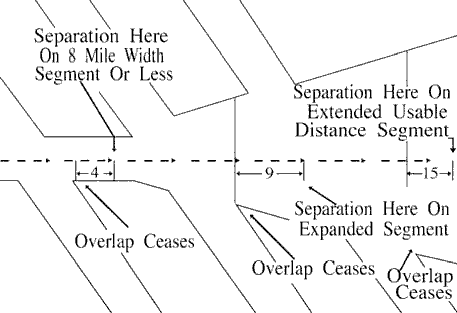 When operating along a route that is 8 miles or less in width- 4 miles.
When operating along an expanded route- 9 miles, except that 15 miles must be applied along that portion of any route segment requiring extended usable distance limitation beyond 130 miles of the reference facility.
NOTE: Except for GNSS-equipped aircraft /G, /L, /S, and /V, not on a random impromptu route, Paragraph 5-5-1, Application, requires radar separation be provided to RNAV aircraft operating at and below FL450 on Q routes or random RNAV routes, excluding oceanic airspace.