Section 1. Introduction
1-1-1. PURPOSE OF THIS ORDER
This order prescribes air traffic control procedures and phraseology for use by persons providing air traffic control services. Controllers are required to be familiar with the provisions of this order that pertain to their operational responsibilities and to exercise their best judgment if they encounter situations that are not covered by it.
1-1-2. AUDIENCE
This order applies to all ATO personnel and anyone using ATO directives.
1-1-4. WHAT THIS ORDER CANCELS
FAA Order JO 7110.65W, Air Traffic Control, dated December 10, 2015, and all changes to it are canceled.
1-1-5. EXPLANATION OF CHANGES
The significant changes to this order are identified in the Explanation of Changes page(s). It is advisable to retain the page(s) throughout the duration of the basic order.
1-1-6. EFFECTIVE DATES AND SUBMISSIONS FOR CHANGES
This order and its changes are scheduled to be published to coincide with AIRAC dates. (See TBL 1-1-1.)
The "Cutoff Date for Completion" in the table below refers to the deadline for a proposed change to be fully coordinated and signed. Change initiators must submit their proposed changes well in advance of this cutoff date to meet the publication effective date. The process to review and coordinate changes often takes several months after the change is initially submitted.
TBL 1-1-1 Publication Schedule

| Basic or Change | Cutoff Date for Completion | Effective Date of Publication |
| --- | --- | --- |
| JO 7110.65X | 4/27/17 | 10/12/17 |
| Change 1 | 10/12/17 | 3/29/18 |
| Change 2 | 3/29/18 | 9/13/18 |
| Change 3 | 9/13/18 | 2/28/19 |
| JO 7110.65Y | 2/28/19 | 8/15/19 |
1-1-7. DELIVERY DATES
If an FAA facility has not received the order/changes at least 30 days before the above effective dates, the facility must notify its service area office distribution officer.
If a military facility has not received the order/changes at least 30 days before the above effective dates, the facility must notify its appropriate military headquarters. (See TBL 1-1-2.)
TBL 1-1-2 Military Distribution Contacts

| Military Headquarters | DSN | Commercial |
| --- | --- | --- |
| U.S. Army USAASA | 656-4868 | (703) 806-4868 |
| U.S. Air Force HQ AFFSA | 884-5509 | (405) 734-5509 |
| U.S. Navy CNO (N980A) | 224-2638 | (703) 614-2638 |
1-1-8. RECOMMENDATIONS FOR PROCEDURAL CHANGES
The office of primary responsibility (OPR) for this order is:
FAA Headquarters, Mission Support Services
Policy (AJV-P)
600 Independence Avenue, SW Washington, DC 20597
Personnel should submit recommended changes in procedures to facility management.
Recommendations from other sources should be submitted through appropriate FAA, military, or industry/user channels.
Proposed changes must be submitted electronically to

[email protected]

. The submission should include a description of the recommended change, and the proposed language to be used in the order.

NOTE: For details on the submission process as well as additional AJV-P processing responsibilities, please see FAA Order JO 7000.5 Procedures for Submitting Changes to Air Traffic Control Publications.

Procedural changes will not be made to this order until the operational system software has been adapted to accomplish the revised procedures
1-1-9. REQUESTS FOR INTERPRETATIONS OR CLARIFICATIONS TO THIS ORDER
Interpretation requests from field air traffic personnel must be submitted as follows:

The request must be submitted,in writing,by an Air Traffic Facility/General manager to their Service Area Director.
The Service Area Director must review the request and determine if more than one interpretation on the intent of the language can be inferred.
If it is determined that an interpretation is required, the Service Area Director must submit the request, in writing, to the Policy Directorate, for a response.

If a request does not require an interpretation but further clarification is needed it must be forwarded to the Service Center Operations Support Group for a response.

The Service Center Operations Support Group may consult with the Policy Directorate when preparing their response.
The Service Center Operations Support Group must provide a written response to the requestor and forward the response to the Policy Directorate.

Interpretation requests from all other sources must be submitted to the Policy Directorate at

[email protected]
NOTE: Interpretations can be accessed through the Air Traffic Control Interpretation link at the following website: https://my.faa.gov/org/linebusiness/ato/mission_support/psgroup/atc_interpretations.html.
1-1-10. PROCEDURAL LETTERS OF AGREEMENT
Procedures/minima which are applied jointly or otherwise require the cooperation or concurrence of more than one facility/organization must be documented in a letter of agreement. Letters of agreement only supplement this order. Any minima they specify must not be less than that specified herein unless appropriate military authority has authorized application of reduced separation between military aircraft.
REFERENCE
FAA Order JO 7210.3, Para 4-3-1, Letters of Agreement.
1-1-11. CONSTRAINTS GOVERNING SUPPLEMENTS AND PROCEDURAL DEVIATIONS
Exceptional or unusual requirements may dictate procedural deviations or supplementary procedures to this order. Prior to implementing supplemental or any procedural deviation that alters the level, quality, or degree of service, obtain prior approval from the Vice President, Mission Support Services.
If military operations or facilities are involved, prior approval by the following appropriate headquarters is required for subsequent interface with FAA. (See TBL 1-1-3.)
TBL 1-1-3 Military Operations Interface Offices
Branch
Address
U.S. Navy

Department of the Navy
Chief of Naval Operations
N980A, NAATSEA
2000 Navy Pentagon (5D453)
Washington, D.C. 20350-2000

U.S. Air Force

HQ AFFSA
5316 S. Douglas Blvd
Bldg 8400, Room 232
Oklahoma City, OK 73150

U.S. Army

Director
USAASA (MOAS-AS)
9325 Gunston Road, Suite N319
Ft. Belvoir, VA 22060-5582
NOTE: Terminal: Headquarters Air Force Flight Standards Agency is the approval authority for any USAF procedures or minima that differ from those specified herein and that involve military aircraft only.
1-1-12. SAFETY MANAGEMENT SYSTEM (SMS)
Every employee is responsible to ensure the safety of equipment and procedures used in the provision of services within the National Airspace System (NAS). Risk assessment techniques and mitigations, as appropriate, are intended for implementation of any planned safety significant changes within the NAS, as directed by FAA Order 1100.161, Air Traffic Safety Oversight. Direction regarding the SMS and its application can be found in the FAA Safety Management System Manual and FAA Order 1100.161. The SMS will be implemented through a period of transitional activities. (Additional information pertaining to these requirements and processes can be obtained by contacting the service area offices.)
1-1-13. REFERENCES TO FAA NON-AIR TRAFFIC ORGANIZATIONS
When references are made to regional office organizations that are not part of the Air Traffic Organization (i.e., Communications Center, Flight Standards, Airport offices, etc.), the facility should contact the FAA region where the facility is physically located - not the region where the facility's service area office is located.
1-1-14. DISTRIBUTION
This order is distributed to selected offices in Washington headquarters, regional offices, service area offices, the William J. Hughes Technical Center, and the Mike Monroney Aeronautical Center. Also, copies are sent to all air traffic field facilities and international aviation field offices; and to interested aviation public.
Section 2. Terms of Reference
1-2-1. WORD MEANINGS
As used in this order:
"Shall" or "must" means a procedure is mandatory.
"Shall not" or "must not" means a procedure is prohibited.
"Should" means a procedure is recommended.
"May" or "need not" means a procedure is optional.
"Will" means futurity, not a requirement for the application of a procedure.
Singular words include the plural.
Plural words include the singular.
"Aircraft" means the airframe, crew members, or both.
"Approved separation" means separation in accordance with the applicable minima in this order.
"Altitude" means indicated altitude mean sea level (MSL), flight level (FL), or both.
"Miles" means nautical miles unless otherwise specified, and means statute miles in conjunction with visibility.
"Course," "bearing," "azimuth," "heading," and "wind direction" information must always be magnetic unless specifically stated otherwise.
"Time" when used for ATC operational activities, is the hour and the minute in Coordinated Universal Time (UTC). Change to the next minute is made at the minute plus 30 seconds, except time checks are given to the nearest quarter minute.
"Runway" means the runway used by aircraft and, unless otherwise specified, does not include helipads and/or their accompanying takeoff/landing courses. (See Pilot/Controller Glossary terms - Runway and Helipad.)
Flight operations in accordance with the options of "due regard" or "operational" have the following requirements:

Obligates the authorized state aircraft commander to:

(a) Separate his/her aircraft from all other air traffic; and
(b) Assure that an appropriate monitoring agency assumes responsibility for search and rescue actions; and
(c) Operate under at least one of the following conditions:

(1) In visual meteorological conditions (VMC); or
(2) Within radar surveillance and radio communications of a surface radar facility; or
(3) Be equipped with airborne radar that is sufficient to provide separation between his/her aircraft and any other aircraft he/she may be controlling and other aircraft; or
(4) Operate within Class G airspace.

An understanding between the pilot and controller regarding the intent of the pilot and the status of the flight should be reached before the aircraft leaves ATC frequency.

NOTE:
1. A pilot's use of the phrase "Going Tactical" does not indicate "Due Regard."
2. The above conditions provide for a level of safety equivalent to that normally given by International Civil Aviation Organization (ICAO) ATC agencies and fulfills U.S. Government obligations under Article 3 of the Chicago Convention of 1944 (Reference (d)), which stipulates there must be "due regard for the safety of navigation of civil aircraft" when flight is not being conducted under ICAO flight procedures.

"CFR" means Code of Federal Regulations.
1-2-2. COURSE DEFINITIONS
The following definitions must be used in the application of the separation criteria in this order.
NOTE: The term "protected airspace," as used in this paragraph, is the airspace equal to one half the required applicable lateral separation on either side of an aircraft along its projected flight path. If the protected airspace of two aircraft does not overlap, applicable lateral separation is ensured.
SAME COURSES are courses whose protected airspaces are coincident, overlap, or intersect and whose angular difference is less than 45 degrees. (See FIG 1-2-1.)
CROSSING COURSES are intersecting courses whose angular difference is 45 through 135 degrees inclusive. (See FIG 1-2-1.)
OPPOSITE/RECIPROCAL COURSES are courses whose protected airspaces are coincident, overlap, or intersect and whose angular difference is greater than 135 degrees through 180 degrees inclusive. (See FIG 1-2-1.)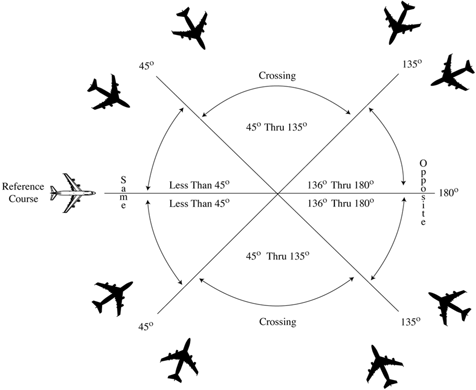 1-2-3. NOTES
Statements of fact, or of a prefatory or explanatory nature relating to directive material, are set forth as notes.
1-2-4. REFERENCES
As used in this order, references direct attention to an additional or supporting source of information such as FAA, NWS, and other agencies' orders, directives, notices, CFRs, and Advisory Circulars (ACs).
1-2-5. ANNOTATIONS
Revised, reprinted, or new pages are marked as follows:
The change number and the effective date are printed on each revised or additional page.
A page that does not require a change is reprinted in its original form.
Bold vertical lines in the margin of changed pages indicate the location of substantive revisions to the order. Bold vertical lines adjacent to the title of a chapter, section, or paragraph means that extensive changes have been made to that chapter, section, or paragraph.
Paragraphs/sections annotated with EN ROUTE, OCEANIC, or TERMINAL are only to be applied by the designated type facility. When they are not so designated, the paragraphs/sections apply to all types of facilities (en route, oceanic, and terminal).
The annotation, USAF for the U.S. Air Force, USN for the U.S. Navy, and USA for the U.S. Army denotes that the procedure immediately following the annotation applies only to the designated service.
WAKE TURBULENCE APPLICATION inserted within a paragraph means that the remaining information in the paragraph requires the application of wake turbulence procedures.
The annotation PHRASEOLOGY denotes the prescribed words and/or phrases to be used in communications.

NOTE: Controllers may, after first using the prescribed phraseology for a specific procedure, rephrase the message to ensure the content is understood. Good judgment must be exercised when using nonstandard phraseology.

The annotation EXAMPLE provides a sample of the way the prescribed phraseology associated with the preceding paragraph(s) will be used. If the preceding paragraph(s) does (do) not include specific prescribed phraseology, the EXAMPLE merely denotes suggested words and/or phrases that may be used in communications.

NOTE: The use of the exact text contained in an example not preceded with specific prescribed phraseology is not mandatory. However, the words and/or phrases are expected, to the extent practical, to approximate those used in the example.
1-2-6. ABBREVIATIONS
As used in this order, the abbreviations listed below have the following meanings indicated. (See TBL 1-2-1.)
TBL 1-2-1 Abbreviations
Abbreviation
Meaning
AAR
Adapted arrival route
AAR
Airport acceptance rate
AC
Advisory Circular
ACC
Area Control Center
ACE-IDS
ASOS Controller Equipment- Information Display System
ACL
Aircraft list
ACLS
Automatic Carrier Landing System
ADAR
Adapted departure arrival route
ADC
Aerospace Defense Command
ADIZ
Air Defense Identification Zone (to be pronounced "AY DIZ")
ADR
Adapted departure route
ADS
Automatic Dependent Surveillance
ADS-B
Automatic Dependent Surveillance-Broadcast
ADS-C
Automatic Dependent Surveillance-Contract
AFP
Airspace flow program
AERT
Automation Embedded Route Text
AFP
Airspace Flow Program
AIDC
ATS Interfacility Data Communications
AIM
Aeronautical Information Manual
AIRMET
Airmen's meteorological information
ALDARS
Automated Lightning Detection and Reporting System
ALERFA
Alert phase code (Alerting Service)
ALNOT
Alert notice
ALS
Approach Light System
ALTRV
Altitude reservation
AMASS
Airport Movement Area Safety System
AMB
Ambiguity-A disparity greater than 2 miles exists between the position declared for a target by STARS and another facility's computer declared position during interfacility handoff
AMVER
Automated Mutual Assistance Vessel Rescue System
ANG
Air National Guard
APR
ATC preferred route
APREQ
Approval Request
ARAC
Army Radar Approach Control Facility (US Army)
ARINC
Aeronautical Radio Incorporated
ARIP
Air refueling initial point
ARSR
Air route surveillance radar
ARTCC
Air Route Traffic Control Center
ASD
Aircraft Situation Display
ASDE
Airport Surface Detection Equipment
ASDE-X
Airport Surface Detection Equipment System - Model X
ASF
Airport Stream Filters
ASOS
Automated Surface Observing System
ASR
Airport surveillance radar
ATC
Air traffic control
ATCAA
ATC assigned airspace
ATCSCC
David J. Hurley Air Traffic Control System Command Center
ATD
Along-Track Distance
ATIS
Automatic Terminal Information Service
ATO
Air Traffic Organization
ATO COO
Air Traffic Organization Chief Operating Officer
ATOP
Advanced Technologies and Oceanic Procedures
ATS
Air Traffic Service
AWOS
Automated Weather Observing System
BASE
Cloud base
CA
Conflict Alert
CARCAH
Chief, Aerial Reconnaissance Coordination, All Hurricanes
CARF
Central Altitude Reservation Function
CAT
Clear air turbulence
CDT
Controlled departure time
CEP
Central East Pacific
CERAP
Combined Center/RAPCON
CFR
Code of Federal Regulations
CFR
Call for Release
CIC
Controller-in-Charge
CNS
Continuous
CPDLC
Controller Pilot Data Link Communications
CPME
Calibration Performance Monitor Equipment
CTA
Control Area
CTRD
Certified Tower Radar Display
CVFP
Charted Visual Flight Procedure
CWA
Center Weather Advisory
DETRESFA
Distress Phase code (Alerting Service)
DH
Decision height
DL
Departure List
DME
Distance measuring equipment compatible with TACAN
DOE
Department of Energy
DP
Instrument Departure Procedure
DR
Dead reckoning
DRT
Diversion recovery tool
DSR
Display System Replacement
DTAS
Digital Terminal Automation Systems
DTM
Digital Terrain Map
DVFR
Defense Visual Flight Rules
DVRSN
Diversion
EA
Electronic Attack
EAS
En Route Automation System
EBUS
Enhanced Backup Surveillance System
EDCT
Expect Departure Clearance Time
EDST
En Route Decision Support Tool
EFC
Expect further clearance
EFVS
Enhanced Flight Vision System
ELDB
Enhanced Limited Data Block
ELP
Emergency Landing Pattern
ELT
Emergency locator transmitter
EoR
Established on RNP
EOS
End Service
EOVM
Emergency obstruction video map
ERAM
En Route Automation Modernization
ERIDS
En Route Information Display System
ERT
Embedded route text
ETA
Estimated time of arrival
FAA
Federal Aviation Administration
FAA Order
FAA Order
FANS
Future Air Navigation System
FDB
FDB
FDIO
Flight Data Input/Output
FDP
Flight data processing
FICON
Field Condition
FIR
Flight Information Region
FL
Flight level
FLIP
Flight Information Publication
FLY
Fly or flying
FMS
Flight Management System
FMSP
Flight Management System Procedure
FSM
Flight Schedule Monitor
FSS
Flight Service Station
GCA
Ground controlled approach
GNSS
Global Navigation Satellite System
GPD
Graphics Plan Display
GPS
Global Positioning System
GS
Ground stop
HF/RO
High Frequency/Radio Operator
HIRL
High intensity runway lights
IAFDOF
Inappropriate Altitude for Direction of Flight
ICAO
International Civil Aviation Organization
IDENT
Aircraft identification
IDS
Information Display System
IFR
Instrument flight rules
IFSS
International Flight Service Station
ILS
Instrument Landing System
INCERFA
Uncertainty Phase code (Alerting Service)
INREQ
Information request
INS
Inertial Navigation System
IR
IFR military training route
IRU
Inertial Reference Unit
ISR
Increased Separation Required
ITWS
Integrated Terminal Weather System
JATO
Jet assisted takeoff
LAHSO
Land and Hold Short Operations
LOA
Letter of Agreement
LLWAS
Low Level Wind Shear Alert System
LLWAS NE
Low Level Wind Shear Alert System Network Expansion
LLWAS-RS
Low Level Wind Shear Alert System Relocation/Sustainment
LLWS
Low Level Wind Shear
L/MF
Low/medium frequency
LORAN
Long Range Navigation System
Mach
Mach number
MALS
Medium Intensity Approach Light System
MALSR
Medium Approach Light System with runway alignment indicator lights
MAP
Missed approach point
MARSA
Military authority assumes responsibility for separation of aircraft
MCA
Minimum crossing altitude
MCI
Mode C Intruder
MDA
Minimum descent altitude
MDM
Main display monitor
MEA
Minimum en route (IFR) altitude
MEARTS
Micro En Route Automated Radar Tracking System
METAR
Aviation Routine Weather Report
MIA
Minimum IFR altitude
MIAWS
Medium Intensity Airport Weather System
MIRL
Medium intensity runway lights
MNPS
Minimum Navigation Performance Specification
MNT
Mach Number Technique
MOA
Military operations area
MOCA
Minimum obstruction clearance altitude
MRA
Minimum reception altitude
MSAW
Minimum Safe Altitude Warning
MSL
Mean sea level
MTI
Moving target indicator
MTR
Military training route
MVA
Minimum vectoring altitude
NADIN
National Airspace Data Interchange Network
NAR
National Automation Request
NAS
National Airspace System
NAT
ICAO North Atlantic Region
NAT HLA
North Atlantic High Level Airspace
NBCAP
National Beacon Code Allocation Plan
NDB
Nondirectional radio beacon
NHOP
National Hurricane Operations Plan
NM
Nautical mile
NOAA
National Oceanic and Atmospheric Administration
NOPAC
North Pacific
NORAD
North American Aerospace Defense Command
NOS
National Ocean Service
NOTAM
Notice to Air Missions
NOWGT
No weight. The weight class or wake category has not been determined
NRP
North American Route Program
NRR
Nonrestrictive Route
NRS
Navigation Reference System
NTZ
No transgression zone
NWS
National Weather Service
NWSOP
National Winter Storm Operations Plan
ODALS
Omnidirectional Approach Lighting System
ODP
Obstacle Departure Procedure
OID
Operator Interface Device
OS
Operations Supervisor
OTR
Oceanic transition route
PAPI
Precision Approach Path Indicators
PAR
Precision approach radar
PBCT
Proposed boundary crossing time
P/CG
Pilot/Controller Glossary
PDC
Pre-Departure Clearance
PPI
Plan position indicator
PTP
Point-to-point
PVD
Plan view display
RA
Radar Associate
RAIL
Runway alignment indicator lights
RAPCON
Radar Approach Control Facility (USAF, USN, and USMC)
RATCF
Radar Air Traffic Control Facility (USN and USMC)
RBS
Radar bomb scoring
RCC
Rescue Coordination Center
RCLS
Runway Centerline System
RCR
Runway condition reading
RE
Recent (used to qualify weather phenomena such as rain, e.g. recent rain = RERA)
REIL
Runway end identifier lights
RF
Radius-to-Fix
RNAV
Area navigation
RNP
Required Navigation Performance
RTQC
Real-Time Quality Control
RVR
Runway visual range
RVSM
Reduced Vertical Separation Minimum
RwyCC
Runway Condition Codes
RwyCR
Runway Condition Report
SAA
Special Activity Airspace
SAR
Search and rescue
SATCOM
Satellite Communication
SDP
Surveillance Data Processing
SELCAL
Selective Calling System
SFA
Single frequency approach
SFO
Simulated flameout
SID
Standard Instrument Departure
SIGMET
Significant meteorological information
SPA
Special Posting Area
SPECI
Nonroutine (Special) Aviation Weather Report
STAR
Standard terminal arrival
STARS
Standard Terminal Automation Replacement System
STMC
Supervisory Traffic Management Coordinator
STMCIC
Supervisory Traffic Management Coordinator-in-charge
STOL
Short takeoff and landing
SURPIC
Surface Picture
SVFR
Special Visual Flight Rules
TAA
Terminal arrival area
TAS
Terminal Automation Systems
TACAN
TACAN UHF navigational aid (omnidirectional course and distance information)
TAWS
Terrain Awareness Warning System
TCAS
Traffic Alert and Collision Avoidance System
TCDD
Tower cab digital display
TDLS
Terminal Data Link System
TDW
Tower display workstation
TDWR
Terminal Doppler Weather Radar
TDZL
Touchdown Zone Light System
TF
Track-to-Fix
TFMS
Traffic Flow Management System
TMC
Traffic Management Coordinator
TMU
Traffic Management Unit
TRACON
Terminal Radar Approach Control
TRSA
Terminal radar service area
UFO
Unidentified flying object
UHF
Ultra high frequency
USA
United States Army
USAF
United States Air Force
USN
United States Navy
UTC
Coordinated universal time
UTM
Unsuccessful transmission message
UUA
Urgent pilot weather report
VCI
Voice Communication Indicator
VFR
Visual flight rules
VHF
Very high frequency
VMC
Visual meteorological conditions
VNAV
Vertical Navigation
VOR
VHF navigational aid (omnidirectional course information)
VOR/DME
Collocated VOR and DME navigational aids (VHF course and UHF distance information)
VORTAC
Collocated VOR and TACAN navigation aids (VHF and UHF course and UHF distance information)
VR
VFR military training route
VSCS
Voice Switching and Control System
WAAS
Wide Area Augmentation System
WARP
Weather and Radar Processing
WATRS
West Atlantic Route System
WRA
Weather Reconnaissance Area
WSO
Weather Service Office
WSP
Weather System Processor
WST
Convective SIGMET