Messages

2,132
Facility

Command Center
Cheers to the people who brought this to my attention and the guy who did all the leg work on this.
https://www.transportation.gov/sites/dot.gov/files/2022-06/DOT Litigation News - Spring 2022.pdf
(pages 24-25)
This is a legal case where a member of the National Air Traffic Controllers Association (NATCA) has filed a Freedom of Information Act (FOIA) lawsuit against the Federal Aviation Administration (FAA) for allegedly violating his right to a timely determination of his FOIA appeal and for improperly claiming exemptions to justify redactions in records that were released. The plaintiff, an air traffic controller, filed a FOIA request seeking certain records of communications or memorandums of understanding (MOU) between FAA and NATCA regarding the transfer of the Newark International Airport area from New York to Philadelphia.
FAA released some records in response to the request, but the plaintiff felt they were not sufficient. He requested additional records, which FAA treated as a new request. FAA then released 58 pages of records, most of which were redacted based on FOIA Exemptions 2, 4, and 6. The plaintiff appealed the withholdings, claiming that FAA improperly relied on Exemption 2 and erroneously applied Exemption 4. FAA confirmed receipt of the appeal but did not respond within the 20-day time frame, which prompted the plaintiff to file a lawsuit in federal court. The court granted FAA's motion for an extension to file its answer, which was filed on April 22.
One of the documents obtained under FOIA is below and another attached.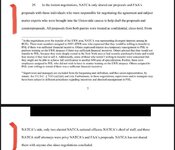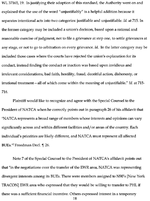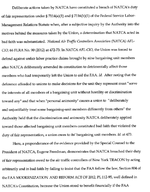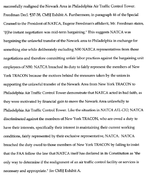 ​
There are more things to upload (double checking somethings including the original FOIA document) but this should be sufficient enough to start a discussion.